Maximize your online presence with our
Flutter App Development

Services

With over 12 years of IT experience and thousands of projects delivered across the globe, The NineHertz is the one-stop destination for all sorts of Flutter App Development Services. We offer customized Flutter App Development Solutions for several platforms in Android and iOS app development market.
Custom Flutter Development Services
Our Flutter app development team customizes your applications and build a powerful solution that suit your business needs.
Cross-Platform Application Development Services
Top Flutter app development company who creates multi-platform mobile app solutions that runs smoothly on multiple platforms.
Flutter iOS and Android App Development Services
Avail our Flutter iOS app development and Flutter Android App Development services and rest assured of getting premium applications.
Dart App Development
The NineHertz offers Dart App Development Services to transform your native applications to hybrid form with the use of the latest Dart libraries.
Testing & QA Services
We have a robust team of mobile app developers, quality analysts and testers who make sure that your application is bug-free at all stages.
Flutter App Maintenance & Support Services
The NineHertz provides all sorts of maintenance and support services for your Flutter applications.
Why

Use Flutter Mobile App Development?

When you use Flutter mobile app development for both iOS and Android platforms, you can make more money and spending less. Flutter framework is the most eye-catching technology offering extended benefits.
Numerous Packages
Flutter framework offers multiple packages including HTTP requests generation, Gradle dependencies for Android, accessing sensor, Firebase Implementation and much more.
Responsive Framework
Create Flutter apps with responsive designs by leveraging its behaviour of resizing your layout when the screen dimensions change.
Speedy Development
With XML and Dart, the whole process gets extremely fast and seamless, which makes Flutter an eye-candy for the developers
Widgets Implementation
Company utilizes a range of Flutter widgets and implement it on the major operating systems – Android and iOS.
Hot Reload
Hot Reload enables Flutter programmers to view code and development changes faster in comparison to other development frameworks.
Optimum Performance
The applications built on Flutter are built directly into the machine code, which helps in eradicating any bugs in terms of performance.
Flutter Web Development and Integration Solutions
Being a renowned Flutter Development company, we are leading experts in custom API development services and integration solutions. Our Flutter Developers build successful API and deliver integration services for agencies across the globe.
Flutter Install
Flutter Analyze
Flutter Build
Flutter Test
Beacon Integration
GPS Integration
Porting and Migration
XMPP Chat Server Integration
Payment Gateway Integration
Wearable Integration
Third-party app integration
Audio/Video Live Streaming
Custom API Integration
BLE Integration
1200+

Ideas and Projects Delivered

12+

Industry Experience

450+

Clients Worldwide

200+

Certified and Expert Programmers
Ready to get
started

?

We craft engaging, responsive and scalable iOS and Android applications that cater to all your business needs and establish a long-lasting relationship between customers and your brand. Get in touch with us to kick-start your project!
Custom
Flutter App Development Expertise

in Various Industries

Being the leading App & software Development Company in India, our tailor-made Flutter iOS app development and Flutter android app development solutions have helped hundreds of businesses to put their best foot forward in the industry. The industries we serve include the following:
Healthcare
Logistics
Education
Retail
Finance
Wellness
Oil & Gas
Transportation
Travel
Social Network
Event
Productivity
Looking for Other
Services

?

Explore our over the top services to discover how we help enterprises to accelerate their time-to-value and reimagine business!!

Explore All Services
Our Latest
Flutter App

Development Case Studies

Our organization has successfully completed and delivered thousands of projects by serving clients from all around the world. Following are some of the finest work samples done by us:
Why Choose
The NineHertz

as your Flutter App Development Company India?

The NineHertz is a leading Flutter App Development company in India working dedicatedly in the area of providing top-class Flutter custom mobile app development solutions that add value to your brand.
Skilled Team
Save on Mobile App Development Cost
Guaranteed Innovation
Dev-Ops Enablement
Result-Driven Approach
Quality & Security
Build Customer Loyalty
Increase ROI
Non-Disclosure Agreement
Co-Development Teams
In-Depth Domain Knowledge
Integrity Transparency
Quick and easy communication
Agile methodology
Easy Hiring process
60% Less Expenses
100% Genuine Reviews
500+ Professionals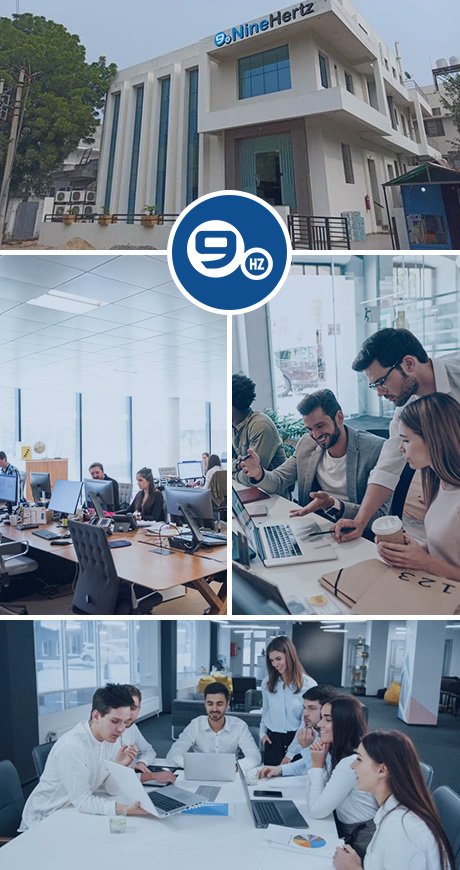 Interested To Develop Your Own Phone App?
Take a Glance
Recognition & Accolades for
One of the Leading Flutter App Development

Companies

We are proud to showcase our awards, accolades and recognition in the IT industry for hard work, dedication and putting the customer first.
World-Class
Brands

Trust Us

We're the proud Flutter app development partner of leading companies across the globe.
Got Questions? We're Here for You!
We understand that you might have questions while getting started with Flutter App development. Don't worry, we've answered them here.
Why should I hire you as my Flutter App Development Company?
When it comes to the offshore Flutter App Development Team, The Ninehertz is a well-known name having a team of more than 250 employees and more than 13 years of experience in Flutter App Development. The team consists of Flutter developers, QA Analysts, testers and project managers. We have served more than 15 countries with a glorifying track record of 98.7% customer satisfaction. Avail of our Flutter app development services to get the top-notch Flutter app development solutions.
How much time does it require to create a Flutter application?
The process to build a Flutter application depends on multiple factors including design complexity, development platforms, functionality and features, level of experience of the developer, testing and project's scale.
How much does it cost to develop a Flutter Application?
The cost to be invested in Google Flutter App Development depends upon factors such as the development platform, app categories, country of the developer, app complexity and multiple features you require in testing.
Flutter enables you to build multiple sorts of applications implementing new software and hardware functionalities like camera, geolocation, storage, and third-party SDKs. Further, with Flutter, you can craft 2D mobile apps too that can run both on iOS and Android platforms.
Flutter was officially launched in 2018 and is a free, open-source mobile Software Development Kit (SDK) that is used to create native-looking iOS and Android apps with the use of the same code base. Thousands of mobile apps have already made it to the app stores with the use of Flutter. Here is the list of top benefits of Flutter:
High Performance
Super Productivity
Open-Source
Compatibility
Easy and quick deployment
Expressive and flexible UI
Good Widgets
Native performance
Inter-dependable code interface
Flutter is gaining immense popularity in the market and that's the reason enterprises are opting for this brilliant framework to build their mobile apps. A few of the popular apps developed using Flutter are as follows:
Alibaba (eCommerce)
Reflectly (Lifestyle)
Coach Yourself (Health and Fitness)
Hookle (Social)
Watermaniac (Health & Fitness)
Cryptograph (Finance)
SG Bus Tracker (Maps & Navigation)
Google Ads (Utility)
Hamilton Musical (Entertainment)
Birch Finance (Finance)
Yes, for sure! Flutter is undoubtedly a startup-friendly app development platform due to the fact that there is no need to develop Android and iOS applications separately with the help of a single code base.
Yes, this is very much possible. With the help of skilled and experienced Flutter app developers, you can migrate your existing application into advanced Flutter technology to build seamless applications.
Yes, The NineHertz provides support and maintenance services after your app goes live. The rates we charge are also very nominal. That's the reason we are called the one-stop destination for all your tech needs.
Yes, The NineHertz allows you to partner with us based on your time zone preference. Our in house Flutter development team will work according to your time zone, deadline, and milestone. You can contact us to discuss concerning your requirements.
What is the future of Flutter app development?
The market has a lot of technologies for mobile app creations and the mobile applications are evolving and will continue to grow in future. Flutter app development has optimised creation of mobile applications and offers a wide range of design and customization. Therefore, there are more chances to grow and dominate other mobile development frameworks.
Do you know some facts about Flutter?
Flutter is an open-source, free to use app development framework
It works on Dart Programming Language
It provides a wide range of widgets for creating UI/UX views
It utilizes C++ rendering engine to draw widgets
The app architecture Flutter uses is based on reactive programming.
What are pros of Flutter app development?
Flutter development by Google comes with a lot of advantages:
Hot reload feature
Quick launch of app
Easy customization
User-friendly designs
Don't get dependent on native API functions
Excellent performance
You can enjoy enormous benefits for your business if you are using the Flutter framework.
Cost of developing the Flutter application is not as expensive as we think. Though it can run on both Android and iOS but it is less expensive than Android and iOS development. This is because we need one developer to perform coding for both mobile platforms. It saves much of the money and is ofcourse cost-effective.
People always create apps on both android and iOS platforms to reach a wider audience for their business. Earlier, two separate processes were followed to make Android and iOS applications. Flutter has saved time by following a single codebase approach which allows developers to run single code on both platforms. Comparatively, it takes less time to develop Flutter than Android or iOS application.
Save time by using Flutter app development for your applications.
In Flutter app development, one can create native lookalike mobile applications for Android and iOS devices using a single codebase. These features allow developers to spend less time including and thus increase the speed of launch. When the user needs any changes according to market needs or his choice. Other platforms may face huddle in changing them. But Flutter helps you to develop the app in any way. With its widget traits, one can customize the application, i.e. adjust features according to the desire.
Yes, you can integrate with the 3rd party software tools API likewise you build your Flutter mobile app with Node.JS, Angular, Firebase and others.
With Flutter, you can develop 2D mobile apps required to run on both the Android and iOS platform. It is well-suited for building apps that are focused on delivering brands first design and apps look like native platform. Also, you can whip up feature rich apps utilizing functionalities like network, geolocation, camera, storage, 3rd Party SDKs and more.
Flutter is recognized for building apps with excellent performance. It helps developers to easily achieve a constant of 60fps. Applications developed using Flutter starts quickly because these apps run via natively compiled code without any requirement of interpreters.
Not only Flutter supports widgets but also provides a wide range of widgets to create an app's view and interface. They are fast, extensive and customizable. One can create complex custom widgets as per the application requirements by nesting different widgets. Applications developed using Flutter offers a natural look and feel regardless of screen size.
Yes, Of course, We have a team of experts who will guide you throughout your app development to make sure you understand each of the features very well and suggest changes according to your choice. Your queries related to Flutter app development will always be sorted by our certified Flutter app developers and other team members.
We always emphasize on client satisfaction policy and therefore, sign NDA to keep your idea confidential and make sure we follow the standards of agreement. We also follow data security guidelines and abide by the legal policies. The information is distributed according to the hierarchy and need in task.
Latest
Blogs

and

News

Stay updated with the latest development insights, technologies, trends.
Latest
Blogs

and

News

Stay updated with the latest development insights, technologies, trends.