Custom Healthcare Management Softwares
Collaborate with The NineHertz as your one-stop healthcare software service provider that helps you visualize and develop bespoke software to attain new horizons for your business.
In line with the latest breakthroughs and developments encountering the healthcare industry we offer the best custom healthcare software development services to keep our clients ahead of the curve. Choose from a wide range of healthcare custom software development services to build the perfect solution for your requirements.
Electronic Health Records (EHR/EMR)
HIPPA. ANSI, HHS, ONC-ATCB, BAA, FDA Security & Compliances System
Telemedicine Telehealth Apps
E-Prescription (ERx) Software
HIS & Practice Management Software
Health Information Exchange (HIE)
Pharmacy Management
RCM & Medical Billing Software
Laboratory Information Management System (LIMS)
Veterinary Practice Management Software
Assistive Technology Software
DIACOM/PACS
IOT And Wearables Development
Blockchain Development
Our Medical Software Engineers Expertise
With over 12+ years of experience behind us, our healthcare software developers are adept in crafting unique healthcare software development solutions for our clients. Our dedicated medical software engineers at The NineHertz outshine the industry with outstanding services.



Mobile Health Systems

The advent of mHealth revolutionized the conventional medical treatment method. Moving to digitalization and making medical records compatible, our healthcare software developers aim to make an integrated system of medical systems and applications.




Patient Management Software

The medical software engineers at The NineHertz focus on creating an intuitive user interface. A centralized dashboard along with powerful integrations is indispensable to elevate your business to the next level.




Clinic Management Software

The NineHertz is a leading hospital software development company and our technical know-how and experience can help you handle patient biils, appointments, prescriptions, and other calculations digitally.



Fitness and Nutrition Solutions

The increased digitization and the recent Covid pandemic has made fitness and nutrition solutions one of the mainstream trends. From tracking nutrition to creating a holistic exercise routine, our medical software developers build stunning fitness softwares.




Medical Animation

Our hospital software development experts use a variety of high-end tools and astonishing 3D technology to deliver best in class animation and graphics for training videos and books.




Doctor Software

Our Healthcare software engineers help interconnect a number of monitoring devices and store large amounts of unprocessed data in a 3rd party cloud. This helps doctors to access clinical trials and diagnostic results in seconds.
Advantages of Medical Software Development
Medical software development services are the need of the hour and used widely by the premium audience. Enhance your customer loyalty by hiring a custom healthcare software development company that will focus on swiftly and conveniently connecting the customers to healthcare providers. Here are a few benefits of hiring medical software developers.
Certified Developers
The highly skilled healthcare software developers study every aspect of new technology before practicing it. The certified team thrives on building custom medical software for your healthcare business.
Economical and Efficient
Hiring a third-party offshore company for custom healthcare software development services can help your healthcare businesses save a lot of costs.
Access to Global Software Developer
In-house software development often gets restricted to limited resources. Outsourcing healthcare software development services offer businesses an option to avail the services of global talents
Flexible and Scalable Solutions
A medical software development company enables you to hire medical software engineers on a part-time or full-time basis to suit your unique requirements. It offers your business the flexibility to scale up and down resources as per the needs.
Assured High-tech Services
Partnering with a custom hospital software development company, you will have access to a superior talent force, medical software developer experts who are adept in developing high-tech applications.
Speedy Development
Outsourcing a healthcare software development agency ensures timely and faster deliveries. They value your time and constantly upgrade themselves to meet your growing needs.
Hire
Medical Software Developers

for Custom Healthcare Software Solutions

Encompassing all technology-related demands of the current healthcare market, The NineHertz is known for its high standards of medical software development services to its clients. Our software development healthcare experts will assist you in forming a secure, feature-rich, and innovative medical platform. Hire a software developer in the medical field from The NineHertz right away to improve your customer experience and achieve great sales.
Telemedicine

Software Development

With Mutelcor's scalable app development for healthcare, step up your healthcare efforts through careful planning and prevention.
Custom Telemedicine Software
Telemedicines softwares designed by our top medical software development experts do everything from quick, convenient connections with physicians to prescription services, and symptom checkers.
Cloud-based Telemedicine Software
We devise cloud-based custom Telemedicine software for healthcare institutions that are feature backed and promote seamless patient monitoring.
Third Party Integration
The medical experts at The NineHertz leverage seamless third-party integration of HL7,RCM, and LIMS to provide you top class custom healthcare software services
mHealth

Solutions

We provide seamless custom healthcare software development services that enable us to maintain the clinical workflow and enhance patient care.
mHealth Telemedicine Software
Build impactful and highly functional Telemedicine solutions for multiple devices which help you improve your data management processes and health diagnostic services.
Patient Engagement

Solutions

The NineHertz is skilled in developing medical software that allow patients to indulge with healthcare providers, book online appointments, pay bills and have accessible health records. Our patient engagement solutions can easily connect your healthcare teams to patients with a simple touch of a button
Electronic Health Record (EHR/EMR) Software Solutions
Our experts developing medical software provide top-notch EHR and EMR software solutions. The software can be used by both healthcare professionals and patients across the globe to access electronic medical or health records.
EMR/EHR Medical Software Development
Electronic Health Record framework allows our clients to evolve with changing trends. It helps healthcare providers manage patient medical records and speed up clinical workflows.
EHR/EMR Implementation Services
We provide EHR medical softwares to improve the quality of care by reducing medical errors, facilitating communication, and sharing information between healthcare providers.
EHR/EMR Integration Services
Develop scalable EHR/EMR solutions by integrating third party technologies for having an automated access to a comprehensive structured data repository.
E-Prescription (ERx) Software
Our custom mHealth software uses an E-Prescription user interface to generate prescriptions electronically and allows sending medical prescriptions directly to drug stores and pharmacies providing hassle-free support to doctors as well as patients.
CDS Integration Services
Better Clinical Outcomes
Third-Party Integration like integrating billing and scheduling
IoT/IoMT/IoHT Software Development
Our integration of IoT/IoMT combines the use of multiple wearables like ECG and EKG monitors that cover skin temperature, glucose level, blood pressure readings and other common medical measurements.
IoT or IoMT can be categorized in the following segments –
Clinical Operations
Patient Monitoring
Medication Management
Telemedicine
Remote Patient Monitoring
Doctor Appointment Booking System
With the new-normal contactless experiences on the rise, we offer unmatched Medical Appointment Scheduling service for Clinics, Hospitals and Individual Doctors to schedule their appointments. The NineHertz aims to empower doctors, patients and healthcare enterprises to capitalize on mobile devices.
Doctor Appointment Booking Software
Give your patients the flexibility to consult with your physicians from anywhere at any time through our Doctor appointment booking systems.
Doctor Appointment Booking Website
Develop a Doctor appointment booking website with us to offer commodious appointment booking services for patients preferring desktops over smartphones.
Third-party Integration
Our healthcare software solutions offer access to third-party plugins that simplify the process of healthcare custom software development.
Remote Patient Monitoring Software
At The NineHertz our experts develop remote patient monitoring software that allows healthcare institutions to streamline workflows & manage patient interactions via mobile-based medical technology and clinical decision support system (cdss).
PACS & DICOM Viewer Software Solutions
Our full stack healthcare solutions development company uses PACS and DICOM viewer software solutions for versatile storage and better imaging.
PACS Implementation Services
We integrate PACS/DICOM protocols to have economical storage and convenient access to images such as x rays and other reports from multiple devices.
DICOM Viewer Development
Our experts leverage EMR/EHR/HIS systems with DICOM to form a comprehensive specification of information content, structure, encoding, and communications protocols.
Programming Teleradiology Services
We incorporate XML, JSON, and LINUX web services to expand PACS and VNA teleradiology capabilities.
DICOM integration services
Our DICOM Integration team coordinates and executes technical projects to perform data migration, archival system changes, and recoveries.
Health Information Exchange(HIE) Software Solutions
The NineHertz aims to deliver advanced health information exchange (HIE) software solutions to our healthcare clients helping them to enhance their efficiency and revenues.
HIE Interoperability
Our efficient Health information exchange software solutions address major challenges such as procedure repetitions, data redundancy, and duplicate tests to save money.
HIE Mobile and Web Applications
Develop cross-platform, hybrid and native applications using HTML, CSS, JavaScript and other high-end technologies.
HIE Standards
We have a zero tolerance policy when it comes to standards and quality. We adhere by the ISO 9001:2015, CCDA, GDPR, and other guidelines.
Healthcare Blockchain Solutions
We develop the best in class healthcare blockchain solutions to enable the transfer of health records into the health systems securely, manage the medical supply chain and handle the clinical trials safely and securely.
Blockchain Consultancy
At The NineHertz our experts begin with making you understand the concept of blockchain and how blockchain can benefit your enterprise.
Blockchain Integration
With expertise in multiple blockchain platforms, we can create hack-proof and robust platforms enhancing your and transaction security and securing your data.
Blockchain support and maintenance
Our healthcare technology consultants assist you with the monitoring, maintenance and modifications in your healthcare blockchain software.
HIS and Practice Management Software Solutions
Our highly functional HIS and PMS software solutions enable healthcare organizations to capture patient demographics, schedule appointments, perform billing tasks, generate reports, and other administrative tasks.
We have the below integrated Software solutions –
Hospital Information Systems
Practice Management Systems
Hospital Case Management Systems
HIS and PMS Patient Portal Integration
HL7 Interface Software Solutions
We engineer custom solutions adopting international standards to create top class HL7 Interface Software Solutions that enable full interoperability with all medical data management systems.
We have adopted the below integrated Software solutions –
HL7 Software Integration services
HL7 Third-Party Implementations
HL7 Interface Engine Development
HL7 Mobile Health Applications
Revenue Cycle Management(RCM) and Medical Billing Software Solutions
The NineHertz has extensive hands-on experience in developing robust Revenue Cycle Management(RCM) Software Solutions that helps in unifying the patient experience with financial performance of healthcare organizations.
Hospital RCM Software Solutions
As your trusted source for revenue cycle management, our Healthcare software engineers build robust Hospital RCM software solutions to face the growing challenges facing the healthcare industry.
Third Party RCM Implementation
Our medical billing software development services integrate third-party medical bill payments solutions from SwervePay, AllScripts, etc to improve payment cycle organization.
Medical Coding software services
Medical Coding software services We leverage multiple Medical Coding software services like CPD, ICD, HCPCS, etc to enhance the efficiency of your software.
Laboratory Information Management System(LIMS) Softwares
To ensure smooth operations of your modern laboratory we create world-class Laboratory Information Management Systems (LIMS) software solutions that allow you to effectively manage samples and the associated data.
LIMS Protocol Execution
Our developers use LIMS software solutions to build workflows which map to actual laboratory processes to automate decisions and actions.
LIMS Inventory Management
We engineer scalable LIMS inventory management software solutions that assist in managing stock supplies and can assign automatic reorder alerts.
LIMS Security Modules
To ensure business continuity, we ensure compliance to SOPs and cybersecurity to have access to secure data in the cloud.
Assistive Technology Development
With the aim of making technology and healthcare more accessible we incorporate Assistive Technology Development in our software solutions in order to promote inclusion and participation of people with disability, aging populations, and people with non-communicable diseases.
For Deaf and Hearing Impaired
For deaf and hearing impaired people we devise special softwares that are compatible with smart Hearing aids, video relay services, tactile devices, alerting devices and other technology for supporting communication.
For Blind and Visually Impaired
For blind and visually impaired people, our experts design screen-reading, magnification, text-to-speech applications and refreshable Braille Displays.
For Enhanced Communication
To promote enhanced communication, we develop augmentative and alternative communication softwares helping the ones suffering from cognitive disorders like autism, dementia, etc.
Pharmacy Management Software Solutions
From point of sale to back office, we design scalable Pharmacy Management Software Solutions to streamline operations and improve patient outcomes. We aim to give you a cutting edge in the healthcare industry while simplifying your daily routines.
We have adopted the below integrated Software solutions
Pharmacy Software Development
Pharmacy Automation System
Pharmacy Inventory Management
Pharmacy POS Software Integration
AR/VR Based Medical Solutions
Our modern and innovative AR and VR healthcare solutions help medical institutions to provide profound patient treatment, medical rehabilitation, consultation, and diagnosis.
Augmented Reality In Surgery
AR Medical Surgery Training
Assisting Doctor Medical Practice With AR/VR
Virtual Reality in Diagnostics
VR for Pain Management
VR for Medical Education
Our Medical Management Systems Integrations
We leverage the power of varied healthcare software providers to build medical management systems that ensure correctness within the healthcare device ecosystem. Our healthcare technology consultant uses emerging technologies such as AI and ML to help healthcare agencies automate various tasks like smart billing, adaptive staffing and enhanced patient care.
Beacon Integration
GPS Integration
Remote Care Platforms
Medical Billing
PCI-compliant Payment
Healthcare Compliances
Third-Party App Integration
Audio/Video Live Consultation
Custom API Integration
Patient Scheduling
1,789+

Successful Projects Delivered

12+

Industry Experience

450+

Happy Customers

85%

Returning Clients Across Industries
Create Hospital Management Software with Talented Healthcare Software Engineers
The NineHertz is credited with being one of the top Healthcare software development companies in India. We possess a vast experience of developing Doctor Discovery, Prescription, Appointments, Check-In, Billing, and more. Our healthcare software engineers expertise includes securing HIPAA compliance, building user-friendly Doctor and Patient portals, creating robust IPD/OPD management softwares, etc.
Why Choose The NineHertz Among Other Healthcare Software Development Companies India?
One of the leading Healthcare software companies in India and USA has rich experience in building best hospital management softwares and Healthcare compliance softwares. Our Healthcare software consultants solve strategy, operations, M&A and digital issues and offer healthcare interoperability, cloud-enabled custom medical softwares and compliant, healthcare scheduling softwares.
Certified Healthcare Software Engineer

Before implementing new technology, our highly skilled and certified Indian Healthcare software engineers thoroughly investigate every aspect of it.

Experienced Healthcare Software Company

With over 12 years of experience, one of the best healthcare software development companies help you with your needs with proficiency in delivering best-in-class healthcare solutions.

Fast Deliverance of Medical Projects

The NineHertz has a track record of completing projects on time and under budget. Your custom medical software projects will be delivered to you in a short time with no compromises.

NDA Protected Ideas

Our team adheres to the Non-Disclosure Agreements to the letter, and we cherish and respect your company's beliefs and ideas. With us, your project blueprints are completely secure.

Quality Assurance

Throughout the project, our Medical software development company guarantees that the desired consistency are maintained. We do not compromise on quality and deliver the best version of it.

Robust Healthcare Management Systems

A proactive team of experts and an experienced Project Manager work together to provide you with a flawless healthcare scheduling softwares and best medical billing softwares.
Looking for Other
Services

?

Explore our over the top services to discover how we help enterprises to accelerate their time-to-value and reimagine business!!

Explore All Services
Custom Healthcare Software Systems Portfolio
The NineHertz is India's top-rated Healthcare Software Development Company and has a proven track record of serving the best in class web and app healthcare development services. Check out our portfolio and hire a healthcare IT consultant for all your app requirements.
Hire Healthcare IT Consultants for Developing Medical Softwares
Being one of the best healthcare software development company, The NineHertz has devised a variety of engagement models to hire medical software developers as per your convenience and flexibility.
Dedicated Model
Hire a healthcare IT consultant for your all healthcare custom software development solutions. You only pay for the work done on a strict timeline basis under this model.
Budget-friendly resources
Dedicated hours of service
Measure KPIs and pay accordingly
Monthly reviews and payouts
Agile Methodology
You get Agile software development in healthcare through a flexible engagement model that works on a limited budget and changing conditions with the development team.
Open to flexibility and accommodates changes
Co-functioning with agile teams
Focus on micro events and results
Budget control
On-Demand Model
If you have ongoing projects with wavering timelines, hire on-demand healthcare software providers at hourly payments modules.
Pay-as-you go for ongoing commitments
Grow your team basic requirements
Zero hidden extra cost
Measure KPIs and pay accordingly
Technologies our Healthcare Software Developers work on
Software development healthcare industry seeks to fulfill the growing requirements of medical and healthcare professionals. The NineHertz raises the bar and integrates hyper-connectivity, real-time data and the latest technologies. Our healthcare software providers power loT for enhanced connectivity and machine learning to process voluminous data, and AI based systems to add value to our work.
| | |
| --- | --- |
| Artificial Intelligence | Our experts develop AI powered systems that are designed to intelligently assist and ease the work of frontline healthcare professionals. |
| Machine Learning | Mammoth datasets whose processing is beyond human capabilities are processed using Machine Learning algorithms that smartly convert data into comprehensible insights. |
| Internet of Things | We leverage the power of Internet of Things (IoT) to build IoT healthcare devices that ensure greater connectedness within the healthcare device ecosystem |
| Blockchain Development | As a full-stack Blockchain development company we incorporate blockchain ledger technology that facilitates the secure access to patient records. |
| Big Data Software Solutions | To provide end-to-end analytic solutions, we incorporate the latest Big Data software solutions which helps you in data extraction as well as preparation of diverse data. |
Find the Right Solutions from Top Medical Software Company
We offer robust healthcare software solutions by leveraging the latest technology and the expertise of our developers. Check out our whole range of custom services and find the right solution from top software company, The NineHertz
Healthcare app development
mHealth Platform
Wearables
Third-party API integration
Application maintenance
Backend development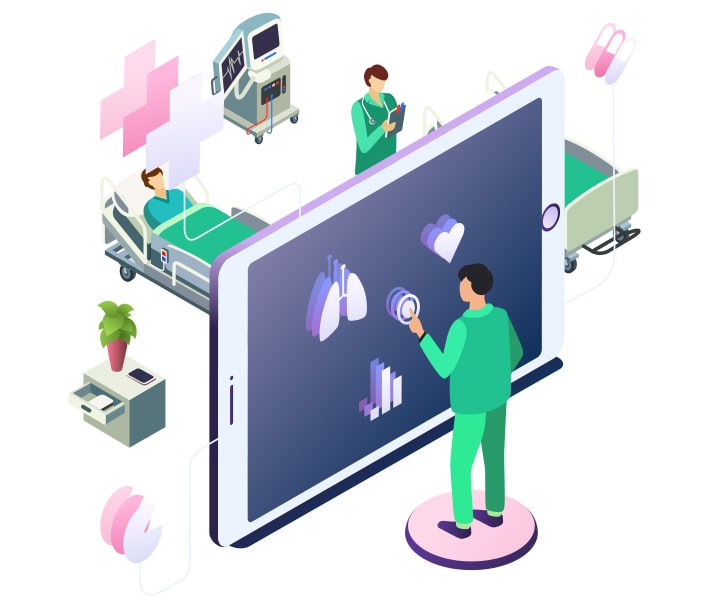 Medical apps
Fitness apps
Telemedicine apps
Laboratory information
Pharmacy Management solutions
Health Information Exchange
Latest
Blogs

and

News

Stay updated with the latest development insights, technologies, trends.
Latest
Blogs

and

News

Stay updated with the latest development insights, technologies, trends.